One thing I've always wanted to do was help people to throw the best parties for their children. Over the years I've attempted this in a number of ways, none of which worked out. Recently I came up with the title "Party Like The Muse" and started to wonder what this could be about. It's a little backwards from the traditional "idea first, title second" but that's even more why I was inspired to dream up ways to use this. Like so many times before, I came back to wanting to help people. I thought this would be a great title to house ideas for people to use to throw amazing children's DIY parties. Everyone knows I love place settings, and like a lot of people I love a good tablescape. That's always where I'm my most creative and happiest developing during the creative process.
Party Like The Muse will be a series of party design concepts, dreamed up by me. I'm spilling the tea and giving you the opportunity to shop the look and use it to create your own parties!! I will also be taking theme ideas from you and creating whatever you tell me you want to see. Since I love place settings so much, we're starting there! I hope to incorporate other design elements but I feel like this is the best place to start. A place setting and tablescape has so much impact at children's parties. If you get this part right, everything else is cake!
My first installment is Alice. I recently had an Alice party that was less Wonderland and more Steampunk, which I LOVED! Here's a photo from that party…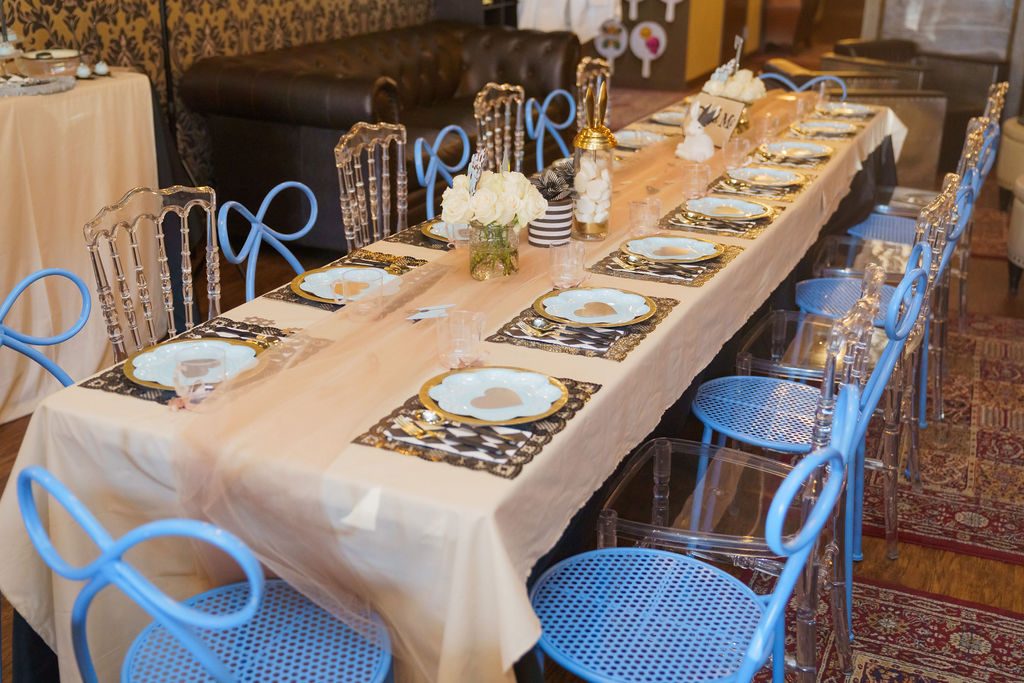 chairs by @petiteseats
The place setting I'm sharing with you first, is from this theme. I wanted to really glam it up in a way that I didn't for the actual party but that I could've under different circumstances. Think about this series as me showing you the "runway look" followed by the "ready to wear". My first look is super fun and imaginative and spares no expense. The second is just as fun but is more attainable for your budget and comfortable for all the kids that will come and have fun at your pretty table.
Without further ado, here is my Alice place setting….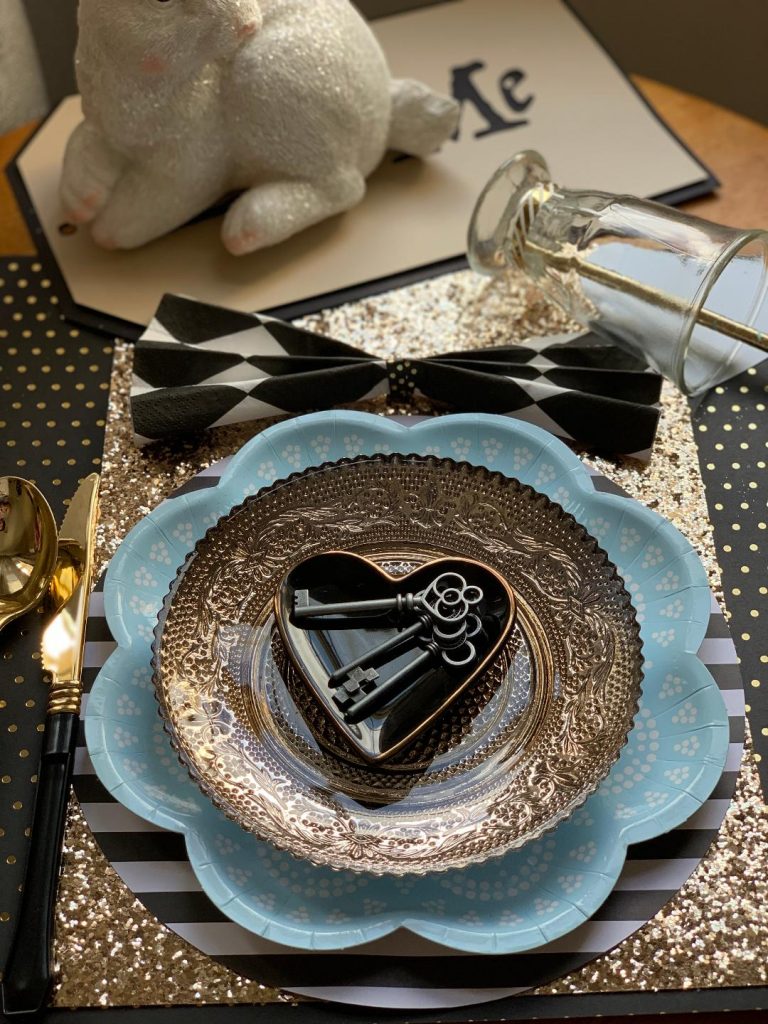 I absolutely loved the party style that this place setting came from. I wanted to just punch it up a bit, and make it the first of this series. It's such a diversion from any other design I've done before and that's why I love it so much. It's also super versatile, there's a lot of themes this would work for but Alice in Wonderland I'm sure is not top of mind….until now 🙂
That was the runway version, and this is the ready to wear…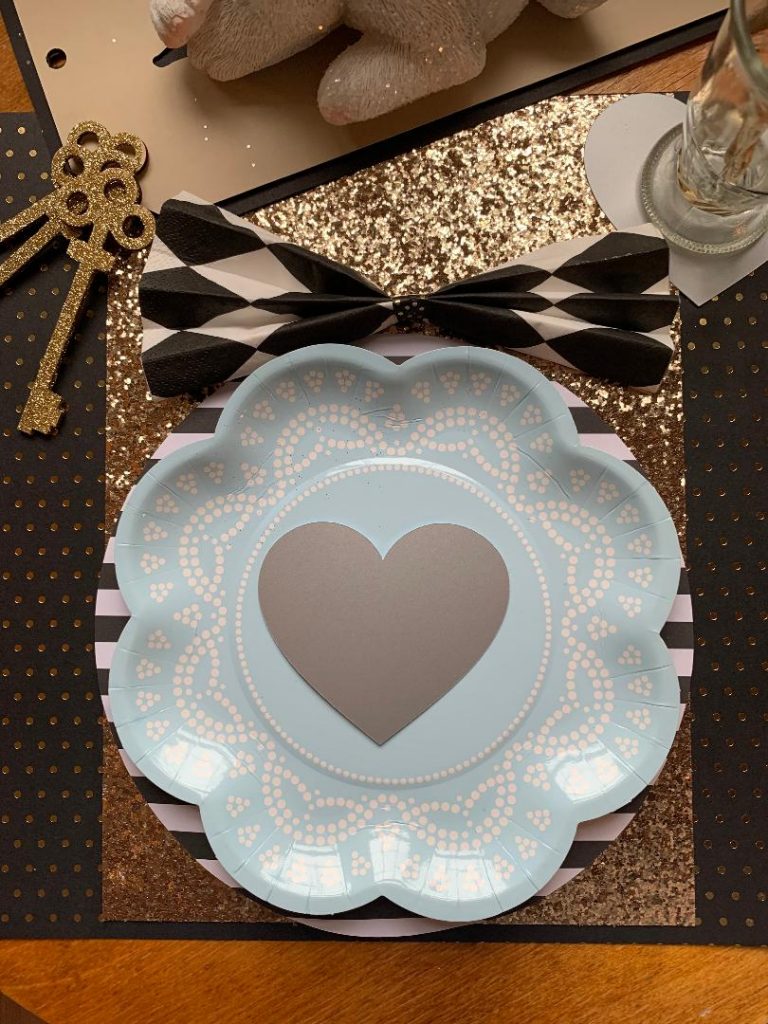 Still dramatic, still Alice, but definitely more attainable and budget friendly. I picture this on a tablecloth in the lightest shade of blue similar to the plates.
Here's how you can get the look:
Placemats: Use any black and gold scrapbook paper you like. Get the 12×12 size and layer on a letter size in glitter and then another one in a circle. Mix them up and have fun with the patterns and textures! The exact papers I used are no longer available however, I got them from Michaels.
TIP – You can use any scrapbook paper for this. However if you get a 12X12 sheet, for a real party you should cut it down to about 10″X10″ because it ends up being too large for the kids sized tables if you don't.
Plates: https://amzn.to/2UklQ22
Plate Decor: https://amzn.to/2NFhY9r
Keys: https://amzn.to/2tQCVoE
Utensils: https://amzn.to/2GYkirK
Napkins: You're going to accordion fold these and cinch in the middle with washi tape. https://amzn.to/2Tbttvo
Cups: https://amzn.to/2Hefwps
I have so much more to say but I'll save it for future editions of Party Like The Muse. This is very rough and unfinished I feel like but I've been sitting on this idea for so long, I just want to get it out there. I promise it will continue to evolve and improve with more to come.
Please drop me a line and let me know what you think about this!! Definitely let me know as well what themes you would like for me to create for you. You can always email me at: hello@thepartymuseonline.com
By The Party Muse, with love
If you like this, check out our Alice In Wonderland Above Central Park!
SaveSave