From beginning to end, building and designing a party is what I like the best.  After meeting with a client and before the nitty-gritty of the planning phase, I'm designing.  This is the part of the planning when you get to dream and be the most creative.  Ideas are coming fast and I write them down and start to build my look based on a few different things.  I figured I would give you a glimpse into that with this post about my daughters Mermaid birthday party and how I will go about putting it together.  It's difficult to explain something that is so natural to you.  The only thing I can say is that every word gives me an actual visual idea which then turns into a visual stream of consciousness if that makes sense.  People throw around a lot of words for party designs – chic, classy, rustic, fun, wild, etc.  All of those things look like something and I'm 100% in line with what that is in terms of a children's party, decor, invitations, food, etc.  That's not something I can teach but I'm willing to bet you have that too!  For Harpers party I wanted it to be vibrant, fun, and modern.
The first thing is to figure out what you want to do and to go out and find inspiration for that.  I'm inspired by a lot of things, cakes, colors, and clothes to name a few.  But, nothing inspires me more than invitations.  I like to look at invitations and imagine what the party would look like  based on it's design.  It gives me a really good focus, from the invitation I can design tableware, cake, and signage pretty easily.  It's such an important detail that many tend to forget about but it's always #1 for me.
I was on the hunt for the perfect Mermaid invitation for Harper's party.  My absolutely FAVORITE place to window shop and purchase invitations from is Paperless Post.  I've been using them for about 7 years now and I'm always so pleased.  Their website is quick and easy of course but the main reason I use them is because of the style.  The invitations are so stylish and modern, you get to choose from a ton of envelope colors, liners, and even a cute little stamp.  They do an amazing job!!  Try them out if you haven't already.  Also, when the emails go out they won't go to spam, that was how I found them years ago.  I was looking for a digital invitation that would actually make into my guests email.  I had so many issues with that prior to finding Paperless Post and I was a bit trigger shy using it at first but now I'm a pro!
Here's the design I landed on, what do you think?
Don't even get my started on the option to change the color of a lot of the imaging on their invitations – LOVE!!!  These little brown mermaids captured my heart the moment I saw them.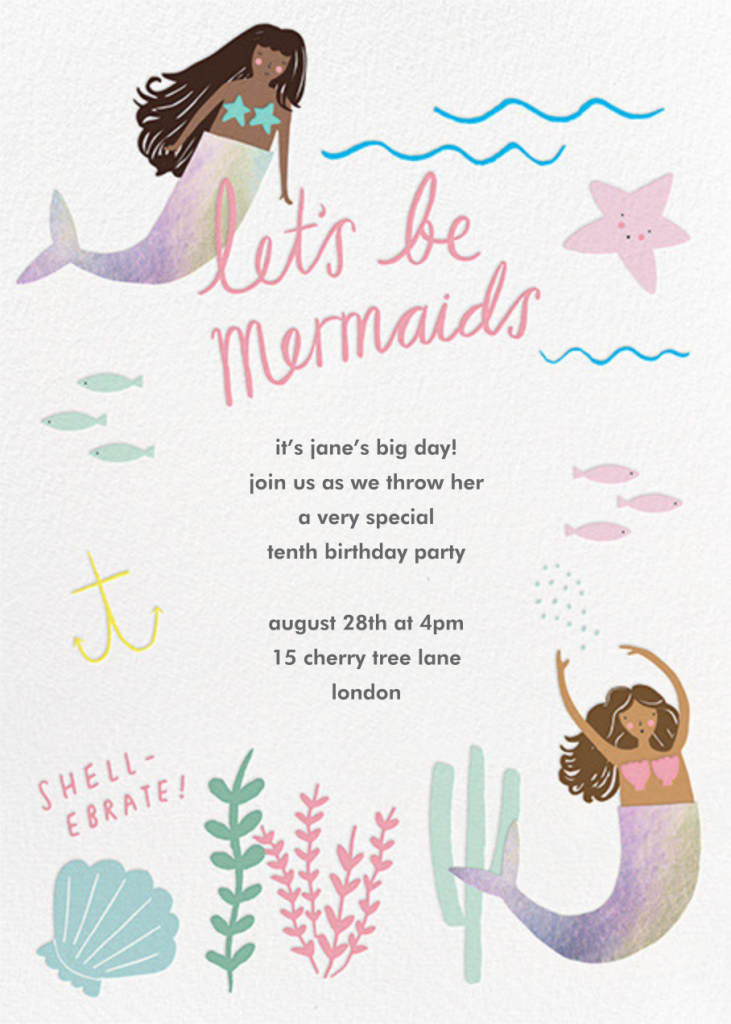 On the next post, I'll share with you how I'm building the look of the party around this invitation.  I'll be sharing the inspiration board and the app I use that makes it super easy!
Hope you enjoyed!
Khaliah